Was Jesus born on December 25? What do we know? What do we not know? What if Jesus was not born on December 25? Does that change the narrative about Him, His purpose, and His impact on the world? We are in the great season that is very significant in the lives of humanity. It is a season widely remembered and widely celebrated all over the world. It is a season that many who celebrate it sometimes do not know what they celebrate. Even people who do not appear to admire the name of Jesus Christ have confessed that the only time they have visited the church was on Christmas day. There are others who, for too much excitement of Christmas, hurt themselves or other people. When I was young, I used to hear of people who were so happy on Christmas day, that they overdrank and endangered themselves and others. What is Christmas? As the word implies – Christ-Mas, it connotes a high, super celebration or big festival but around one person named Christ. There is however only one Christ – full name: Jesus Christ. If you see anyone who answers the name Jesus Christ, other than Jesus of Nazareth, he is either imitator or fake. It is the only name that is above every other name, the name for which every knee shall bow.
How was the name derived? Who gave Him Jesus Christ? The origin of the name "Jesus" is only from God. However, it does not make sense to those who do not believe there is God. It was spoken from the mouth of an angel, a ministering Spirit from heaven. Angel Gabriel told Mary, a Jewish Virgin, "Rejoice, highly favored one, the Lord is with you; blessed are you among women! …. Do not be afraid, Mary, for you have found favor with God. And behold, you will conceive in your womb and bring forth a Son, and shall call His name Jesus. He will be great, and will be called the Son of the Highest" (Luke 1: 30-32). The point was simple, Mary was highly favored among many virgins in Israel to be chosen by God for the honor to be the mother of the Lord. What is the meaning of Jesus? Well, it starts with an angel approaching Joseph, the fiancée of Mary who was planning to quietly cut off his relationship with the innocent young virgin because of her strange pregnancy. I would not blame Joseph for his plan to cleverly end the relationship with Mary. This had never happened before, and this was the only time it would happen in the history of the world for a virgin to carry a baby without affair with man. The angel called on Joseph: "Joseph, son of David, do not be afraid to take to you Mary your wife, for that which is conceived in her is of the Holy Spirit. And she will bring forth a Son, and you shall call His name 'Jesus', for He will save His people from their sins." (Mat 1:20-21). So, Jesus means 'the Savior of the world'. Another name of Jesus that many people answer but they do not know its meaning is Emmanuel. It means "God with us." I have many friends who go by Emmanuel. Some of them have been saved by Jesus Christ. They could, on the basis of their salvation, say, "God is with us,", because they carry Jesus Christ in their heart anywhere, they go. However, there are many who go by Emmanuel who carry everything but God everywhere they go. Anywhere you see them, they are full of hate and anger. They are mischievous and create disharmony whenever they have the opportunity. They're happy with their world being in complete darkness yet they go by name, Emmanuel.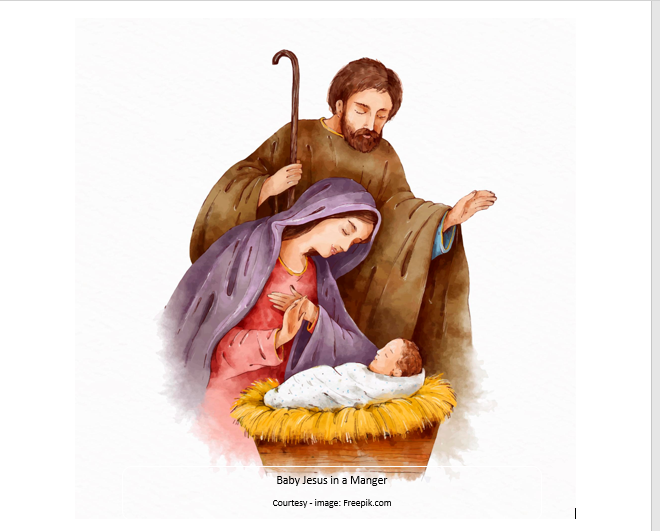 However, the story of Christ was not so strange to humankind. The world was taken and overwhelmed by wickedness, growing rapidly, and making life unbearable for everyone who desired to live a decent life. People were therefore eagerly waiting for the advent of a Messiah who would deliver them from a broken world. The prophets foretold His coming severally for about one thousand years before He was born. Jeremiah spoke prophetically of Him: "'The days are coming,' declares the LORD, 'when I will raise up for David a righteous Branch, a King who will reign wisely and do what is just and right in the land. In His days Judah will be saved and Israel will live in safety. This is the name by which He will be called: The LORD Our Righteous Savior'" (Jeremiah 23:5-6). Micah said: "But you, Bethlehem Ephrathah, though you are small among the clans of Judah, out of you will come for me one who will be ruler over Israel, whose origins are from old, from ancient times" (Micah 5:2). Isaiah spoke that "The Lord Himself will give you a sign: The virgin will conceive and give birth to a son, and will call Him Immanuel" (Isa 7:14). Perhaps, the profound prophecies from Isaiah were the description of the baby Christ that would be born: "For unto us a Child is born, unto us a Son is given; and the government will be upon His shoulder. And His name will be called Wonderful, Counselor, Mighty God, Everlasting Father, Prince of Peace. Of the increase of His government and peace there will be no end, upon the throne of David and over His kingdom, to order it and establish it with judgment and justice from that time forward, even forever" (Isa. 9:6-7)
However, many people in the world were expecting the arrival of the Messiah but not in the form of a baby. A Messiah is thought to be someone who is big and powerful and who would command respect from the high and mighty of the earth but the least of who could be a baby. A baby cannot help itself, thoughtless of being a redeemer to others. A baby helplessly depends on his or her parents to feed and nurture him. Also, it was not expected that a man of that clout would not have a place of high honor at birth. There was no room in the Inn for his earthly parent to lodge in a little town Bethlehem. He was therefore born and laid in a manger. Manger appear to be something a poor man could afford. Nevertheless, because the world was in worse turmoil than what is prevailing today; people were in high expectation, waiting for a deliverer who would come and rescue them from the political, economic and social oppression. When I became a Christian, I had an inappropriate thought in my heart: why would Jesus come as a baby? Why could he not just have appeared in His Godly, powerful form and force people to believe Him? But coercion and freedom are opposite. Since the creation of the earth and humanity, God has been a God of freedom. He designed humankind to be free and enjoy the liberty to choose without compulsion. Freedom is an aspect of the character of God. Coercion and intimidation reigned when Satan deceived humankind into disobedience against God. Human freedom was taken away by the domination of Satan and sin and the world was turned into a place where people are imprisoned, intimidated and coerced. God delights in faith freely chosen. Without faith, it is impossible to please God. So, the Christian faith goes with repentance. Coercing people into heaven will not serve the purpose of heaven where righteousness is the character.
The point God was making by coming to the world as a baby was very significant. First, He came in the form of a man so that humankind could freely relate with Him. He demonstrated that man was not created to be a sinner and that we can truly obey the words of God without being forced to do so. Jesus Christ's life on Earth as a man without sin was a powerful testimony of the character of God. Satan tempted Him when He appeared vulnerable but Jesus shamed the devil and held to His glory. With all the weighty allegations the people brought against Jesus before Pilate at His trial before crucifixion, Pilate looked at Him and declared that he saw no fault in Him. Jesus also demonstrated that God loves us so much and could share with us His holiness and suffer for us so that we may not suffer the penalty of sin. "Why we were yet sinners, Christ died for us". (Rom. 5:8). In our sin, God identified with us. Jesus also brought light into the world that was made dark by Satan. It became a place where people groped in darkness with a total loss of direction and purpose in life which was changed by the birth of the Savior. Jesus told the people, "A little while longer the light is with you. Walk while you have the light, lest darkness overtake you; he who walks in darkness does not know where he is going. While you have the light, believe in the light, that you may become sons of light." (John 12:35-36). He also gracefully declared that He is the way the truth and life through which we can get back to God. God had come to take us back to Himself. Above all, He came to present God to humanity. No one has seen God but those who saw Jesus saw God. Jesus told Philip, "He who has seen Me has seen the Father" (John 14:9)
The news of the birth of Jesus Christ was not broadcast on any news network or celebrity channel, but the good news message was given directly to the people, the least known members of society: the shepherds. They were in the field, in the country of Israel, the land of the Jews, keeping watch over their flock. They labored, were exhausted, and were probably thinking about when they would ever get rest for their souls. We do not know their situation but it was clear that in their labor, they were waiting for the Lord to send a Savior to deliver them. They must have been in an oppressed class in the Middle East. The angel of the Lord spoke to them, and the glory of the Lord shone around them, and they were greatly afraid. It is terrifying to see a supernatural being appearing to an ordinary mortal and more terrifying was the strange light and supernatural presence and awe, the unexplainable splendor that suddenly engulfed the atmosphere and became very serene. The shepherds were right to panic. "Do not be afraid, for behold, I bring you good tidings of great joy which will be to all people." The angel told them – And he continued "For there is born to you this day in the city of David a Savior, who is Christ the Lord." (Luke 2:10-11) A baby and savior? But the bewildered men were convinced when they physically saw the clouds open and with a multitude of heavenly hosts praising God and saying: "Glory to God in the highest, and on earth peace, goodwill toward men!" Nothing more to wait around for, they left their flock and took off to see the strange event that stormed the world. "They saw the baby wrapped in swaddling clothes, lying in a manger."
There were two distinguished persons in Jerusalem, a man and a woman. They were not just waiting for the Messiah but were preserved as witnesses of the truth. Their death was delayed until the Son of God and Savior of the world was born. Simeon was a just and devout man of God, who was waiting for the Consolation of Israel, and the Holy Spirit was upon him. It had been revealed to him by the Holy Spirit that he would not see death before he had seen the Lord's Christ. As soon as Simeon saw Jesus, while Joseph and Mary brought Him into the Temple in accordance to the Jewish customs, Simeon exclaimed at the sight of the baby, "Lord, now You are letting Your servant depart in peace, according to Your word; for my eyes have seen Your salvation which You have prepared before the face of all peoples, a light to bring revelation to the Gentiles, [not for the Jews only] and the glory of Your people Israel." (Luke 2:25-32). Anna was a prophetess and a widow of about eighty-four years. She was advanced in age, but did not depart from the temple. She served God with fasting and prayers night and day. She testified of the gifts of the Lord for all those waiting eagerly for redemption in Jerusalem. These were physical encounters, but heavily spiritual, because they were witnessing and communicating an event that remains the greatest story in the life of the humankind on earth.
Some people's problem with Christmas today is not the celebration, but whether the day we claim as Christmas Day was the actual day Christ was born in Bethlehem of Judah. To them, we are not truly celebrating the birth of Christ until we research to know the actual date. So, was Jesus Christ born on December 25? Probably not. The truth of Christmas is that we do not celebrate a date but we celebrate the most important person and the most important remembrance in the history of humankind. What, then, is the significance of the date He was born? Is the date Christ was born as significant as the purpose and the impact of His birth? Simeon was eager to see Him and the impact the sight of Jesus Christ meant to Him was greater than the date He was born. The important question is "if Jesus Christ was born". If we all agree that He was born, the accuracy or inaccuracy of the date He was born on does not change the important fact that a Savior was born. The accuracy of the date adds no value to the salvation His birth provided for humanity. The shepherds were grateful and were ready to surrender not only their possessions but their lives for the newborn King. They understood how the world was without a Savior. This is why I am stunned when I see people who leave the main issue and chase after the shadows. Some people argue that Christmas Day was a pagan holiday celebrated in the winter as the Roman pagan solstice – the "birthday of the unconquered sun." Christmas is a date set aside to remember the day in which God visited the earth. It is a glorious day of deliverance of humanity from the chains of Satan. It is a day in which God came down to physically be with humankind. Thank God, Christmas is the day to remember when a wretched man like me was delivered from this body of death! In addition, this is not posthumous celebration. We are celebrating the God who was dead and is alive forevermore. Christmas is therefore a time to remember that we have conquered death and we are alive in Christ.
However, as we celebrate Christmas, we should remember that there are many people in darkness and in bondage in our world. Bondage to sin and wickedness, bondage to their self (the flesh), and bondage to the servants and angels of Satan. We have the responsibility to get people out of the prison of Satan. It does not matter what date Jesus was born; we celebrate this Christmas to mark our freedom from darkness into His marvelous light. We need to reach as many people as we can with the good news. Christ was born to save humankind from sin and death. The people need to hear the true gospel of Jesus Christ and not the date He was born. They need to know why we celebrate Christmas and not the accuracy of the Christmas date. Please look out and you will see and feel the anguish, the suffering and the pain the world is putting with. Satan is set to steal, to kill and to destroy. Jeremiah the prophet was disturbed when he saw the people of Zion, who lived as if Christ was never born. He lamented: "I would comfort myself in sorrow; my heart is faint in me. Listen! The voice, the cry of the daughter of my people from a far country: 'Is not the Lord in Zion? Is not her King in her?' 'Why have they provoked Me to anger with their carved images—With foreign idols?' `The harvest is past, the summer is ended, and we are not saved!' For the hurt of the daughter of my people I am hurt. I am mourning; astonishment has taken hold of me. Is there no balm in Gilead? Is there no physician there? Why then is there no recovery for the health of the daughter of my people?" (Jer. 8: 18-20).
If you are looking for a Santa who gives gifts, He is Jesus Christ and He offers you the gift of eternal life so that physical death on Earth is not your end. You will be able to shout when you swallow up death in victory – "O Death, where is your sting? O Hades, where is your victory?" (1 Cor 15:55). PRAYERS: Dear Jesus Christ, my Savior and the Savior of the world: please remember all of my friends that have not known you this Christmas. Please open their hearts of understanding to accept you as Lord and Savior. Let those who are believers keep on believing in you. Help us out with our daily personal struggles. Give us victory.
Michael Jolayemi is a Christian teacher and author of "Saving America: The War We Can't Ignore". His next book is "The Mysteries of God" and is expected to be published on or before the middle of 2022. If you have questions or comments on this article, please feel free to leave a note for me. Merry Christmas to you all!